As a new member of our team, there's so much we'd like to share with you. You already know about our commitment to making the world a better, safer place, and to giving magic havers back their freedom and peace of mind. But did you know that we're also pushing boundaries and innovating to achieve our mission in ways previously thought impossible? It's true! And we're delighted you've chosen to join us on our journey.
VALENCE is a serialized urban fantasy podcast, meant for adult audiences, entering its second season. In our first season, we introduced the major characters and learned a little about New Candler and the world in which the series takes place. With season two, we're bringing some new players to the game and taking our audience beyond what's already known and diving deeper into Halo, the tech company leading the market in magic suppression.
VALENCE is already in production, with all episodes written and edited, and with recording already underway! Join us on January 9th, 2021 for the Season1 premiere of VALENCE wherever you get your podcasts.

Hug House Productions
a podcast production collective founded by Anne Baird, Katie Youmans, and Wil Williams. Our company is currently producing: Scoring Magic, a documentary about the process of making an audio drama; VALENCE, that very audio drama, an urban fantasy fiction podcast; and HEXADEC, an anthology podcast with episodes based on colors.
Hug House Productions's goal in coming together and creating podcasts is to bring stories to the world that feature and spotlight queer characters and artists, as well as those from other marginalized groups. In telling these stories, Hug House also seeks to educate people about the reality of and process that goes into creating these types of stories so that others may learn from our successes and our follies as they bring their own experiences and stories to the wonderful medium of podcasts.

VALENCE Cast and Crew
we're bringing back all of the main cast from Season 1, with some new faces added to the mix!
CAST:
Josh Rubino as Liam Alden (he/him);
John Westover as Nico Salvai (he/him);
Caleb Del RIo as Flynn Velasco (he/him);
Jordan Cobb as Sarah Harris (she/her);
Katie Chin as Grace Chen (she/her);
Ishani Kanetkar as Mahira Varma (she/her);
Madison Dabbs-Petty as Elisha Dawes (she/her);
Elena Fernández Collins as Soledad Marquez (they/she);
Alex Welch as Noel Alden (she/her);
Naomi McMillan as Morgan Reilley (she/her);
David S. Dear as Richard Alden (he/him);
Giancarlo Herrera as Luis Acebo (he/him);
Miracle Fonmanu as Zoe Kafoa (she/her);
and many more to be introduced throughout the season!
CREW:
Wil Williams (they/she) - Showrunner, Lead Writer, and Sound Designer;
Katie Youmans (she/her) - Director, Writer;
Anne Baird (she/they) - Production Manager, Script Supervisor, and Co-Director
Raul Vega (he/him) - Theme Song Composer
Giancarlo Herrera (he/him) - Artist's Representative

PERKS
Eternal Gratitude: Nothing physical, we're just very thankful for your support!
Social Media Shoutout: We will shout your name from the heavens (our Twitter) in public thanks of your support.
Early Episode Access: We'll send you a link to listen to the episodes of season 2 a week before they drop on the public feed.
MP3s of Season 1 and 2 Themes: Full-version MP3s of the Season 1 and Season 2 themes for VALENCE,
Sticker Pack: A VALENCE-themed sticker pack including the new season 2 logo and a limited edition sticker only available during this campaign (designs TBA).
Special Editions of Episodes: Access to special editions of each episode released alongside each regular episode drop featuring added lines voiced by Showrunner Wil Williams.
Written Bonus Scenes: We'll send you a bundle of written bonus scenes set in the VALENCE universe, like some of Liam and Nico's chaos dates that occurred between Seasons 1 and 2 and more from the perspective of other characters.
Custom Character Voice Memo: A custom voice memo from the character of your choice. (*Terms and conditions apply.)
Producer Credit: Sponsor an episode in season 2 and we'll say nice things about you right in the episode! (*Limit of 12.)
ADD-ONS
On top of the perks included with the regular reward tiers, you can add any of the following rewards on to your pledge!
PDF copy of Stabl by Wil Williams: A copy of the book VALENCE is based on: Stabl. Find out where the story of Liam and the TEAm began!
VALENCE Seasons 1 and 2 on CD: Inspired by the amazing Rashika Rao, we'll burn the first two seasons of VALENCE onto discs so you can have both a souvenir and another way to listen to the show!
Custom Magic Sound: What does your magic sound like? Now you can find out! Our sound designer Wil Williams will create your own personalized magic sound for you to use however you want.

This season, we've budgeted to pay every actor who's working on the show -- this means that everyone involved in the voice acting portion is being paid, even if they only have a couple lines.
So here's the breakdown of our $7,000 goal:
Voice Acting - $3,735.00This is the actual cost of our voice acting this season! Because the scripts are completed, we know the exact cost.
Sound Design - $2,400.00Sound design is time consuming, so we want to make sure our sound designer (Wil) is paid for their work!
Composition - $100.00Raul Vega (creator of Rose Drive and Swiss and Lali) is coming back to create a version of the theme song for season 2 and must be paid for his work!
Hosting Costs - $65.00This will helpcover our website and RSS hosting costs for the season!
Platform Fees - $700.00Indiegogo charges a 5% platform fee, as well as a credit card charging fee on each payment. This is an estimate of what it will end up being. (And if those costs end up being less, it'll go towards hosting!)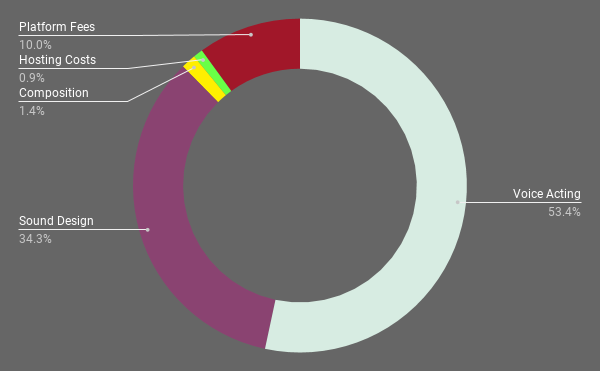 Once we hit our goal of $7,000, we've got some very exciting stretch goals in store!
$10,000 - Bonus Episode: Nico's PerspectiveThat's right! If we hit the magic $10k number, we'll produce an episode from Nico's perspective so everyone can learn more about our disaster chaos child.
$15,000 - Bonus Episode: Morgan Reilley's PerspectiveSeason 2 is going to take us further into the depths of Halo -- but what about the side of the company that Liam and the TEAm don't see? $15k will get everyone an episode from the point of view of the CEO of Halo herself... Morgan Reilley.
$20,000 - Bonus Episode: T.B.A.Okay, listen... if we hit $20k, we'll do another bonus episode and let everyone decide what it is, We'll come up with some options and do a vote on what we do!
We at Hug House Productions are committed to making of VALENCE a reality, so there's little risk to be had. The season is already written, edited, and currently in the recording stage of production, with sound design planned to begin in October 2020.
Even if we don't reach our goal, VALENCE will still happen, and we'll still be fulfilling your rewards — it just might take a bit longer to achieve, and won't have as many frills on the production.
This isn't our first rodeo; we're familiar with the process and have a plan in place with contingencies in case of any issues popping up, but if you have any questions, comments, or concerns, please reach out to us and we're happy to help!
We know that not everyone will be able to contribute financially, which is why the end product will be released for free, but that doesn't mean you can't help in other ways:
Tell others about the campaign on social media!
Share the campaign with your friends and family, even if they're not familiar with podcasts yet. There's always room for more fans of podcasts in the world!
Rate and review VALENCE on social media while it may not increase our charting position (podcast chart analytics continue to be a mystery), it does help others find the show and makes us feel good. ;)
For continued support, you can pledge to Hug House Productions and purchase merchandise for VALENCE
Thank you so much to our entire cast and crew for working with us on VALENCE!
An extra special thank you to the following:
Katie Chin for helping us name our tiers for this campaign.
Millemann Elizabeth for inspiring the copies of VALENCE on CD.