*** Over 150 orders filled as of December 17, 2018 ***
The Tarot of Saqqara
Five thousand years ago in the sacred sands of the Sahara, on the west bank of the river Nile, the greatest Pharaoh of the Third Dynasty commissioned Imhotep to build the first pyramid of Egypt. It was here at Saqqara during a trip in 1981 that Donald Beaman became inspired by the great monument which served as the necropolis for the ancient Egyptian capital of Memphis. It remained an important complex for royal burials and cult ceremonies for more than 3,000 years and it is here that the initiations of those seeking enlightenment were performed.
Using his skills as a professor of theatrical design at Boston University and from his study of sacred geometry, Mr. Beaman began to create images of the early systems of spiritual divination and transformation. His original paintings are composed on 36" x 52" wooden art board using acrylic, silver and gold leaf paints. The final work is an elaborate collection of images derived from the architecture and knowledge of the earliest societies. They comprise not only an Egyptian influence but also that of the Kabbalah, Roman, and Celtic traditions. These paintings would eventually form an 82-card tarot deck entitled "The Tarot of Saqqara".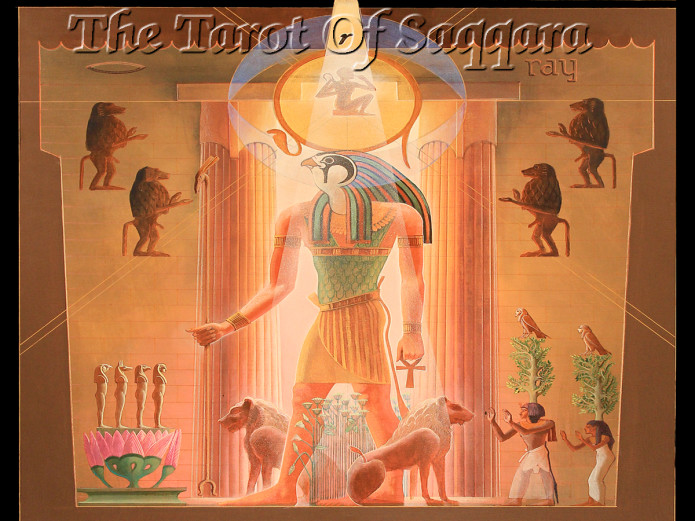 The Deck
The Tarot of Saqqara is based on the traditional 78-card tarot deck on 3.5" x 5.5" cards. The stock is light and flexible with a glossy sheen, while the backs have a reversible pattern that speaks to Prof. Beaman's understanding of sacred geometry. There are four additional cards which are not to be used in an ordinary reading. They were created to explain the initiation to the student or the neophyte. Each of the major arcana cards depicts an associated Coptic symbol, Hebrew symbol, Rune symbol, and Egyptian hieroglyph symbol, along with design elements rooted in sacred geometry, numerology, and astrology. Also included with the deck is a 96-page instructional booklet.
"The Tarot of Saqqara deck is a visually stunning deck with highly symbolic touch. If you enjoy Egyptian art and understand the basics of Sacred Geometry this deck is for you. Donald Beaman's artwork is the heart of this deck. His paintings hold much information in which to read in your sessions."
"Donald Beaman is a master of this unique work. Filled with a plethora of research; talent beyond compare with the illustrations, he captivates the reader and querent alike. A must-have for all tarot enthusiasts."
"The Atus or majors are represented as niches in a temple, filled with radiant light and superior realism creating the effect of a true temple of initiation. Sacred numerology and geometry reminiscent of Tarot Maconnique make the small cards equally rich. The court cards are organized in the Thoth manner and are exquisite."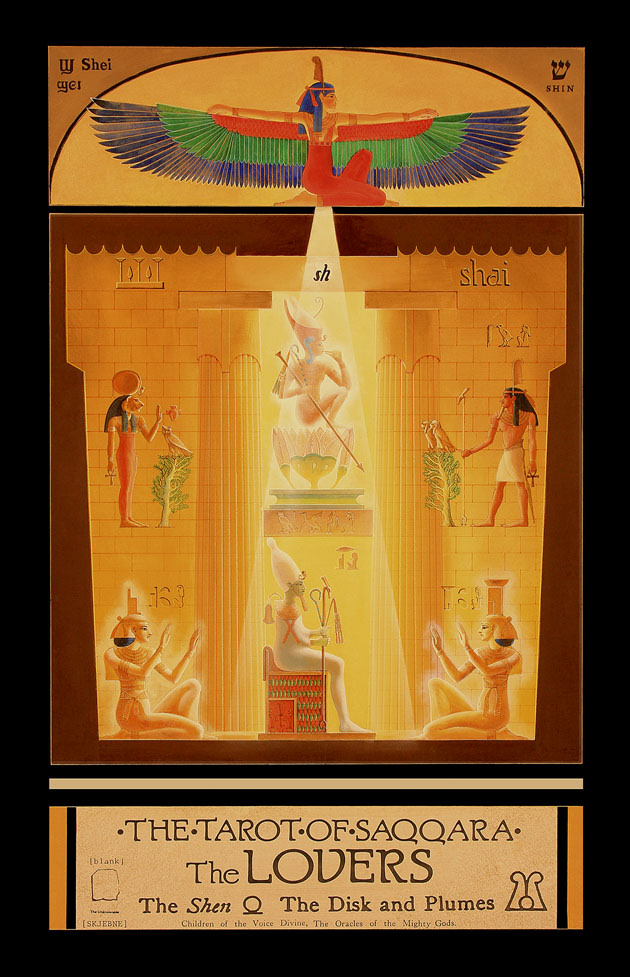 Who Will Enjoy This Deck?
If you are a collector of Tarot cards or an appreciator of sacred geometry, an Egyptophile, Kabbalist, or art collector, a divinator, card reader, psychic medium, or occultist you will appreciate having these richly symbolic cards in your collection.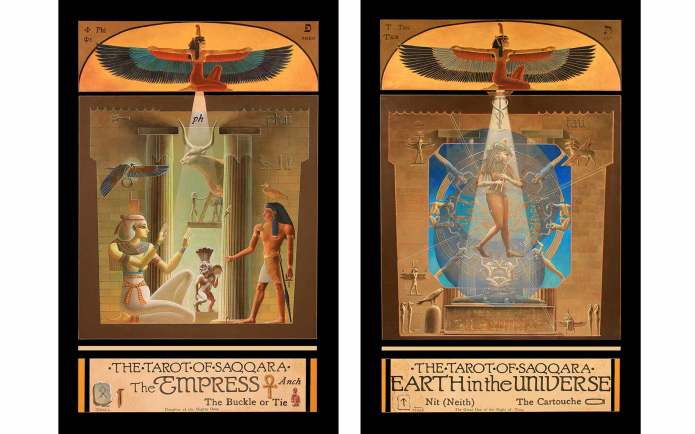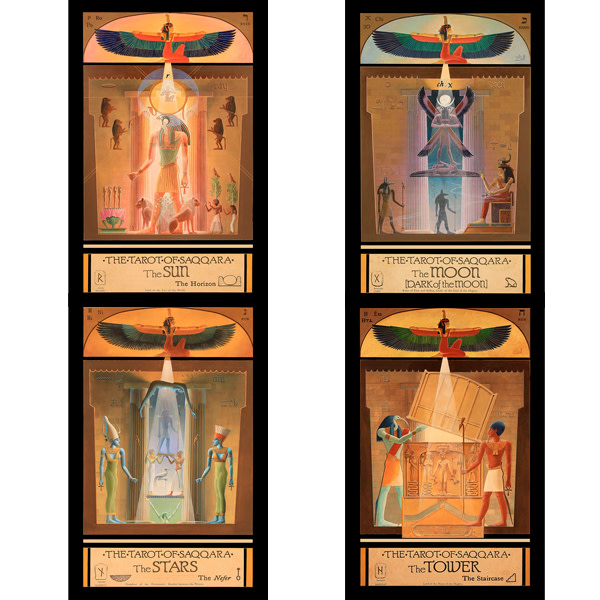 Donald Beaman's Artistic Legacy
In 2014, at the age of 81, artist Donald Beaman passed away leaving this amazing treasure, the Tarot of Saqqara, for mystical seekers of the truth. It is our great pleasure to help keep his life's passion alive through the publication of these amazing Egyptian Tarot Cards based on his artwork.
Renowned psychic and tarot reader Stephen Parker says: "This is one of the most important additions to the subject of tarot that I have had the fortune to encounter in the 42 years I've been involved in facilitating readings."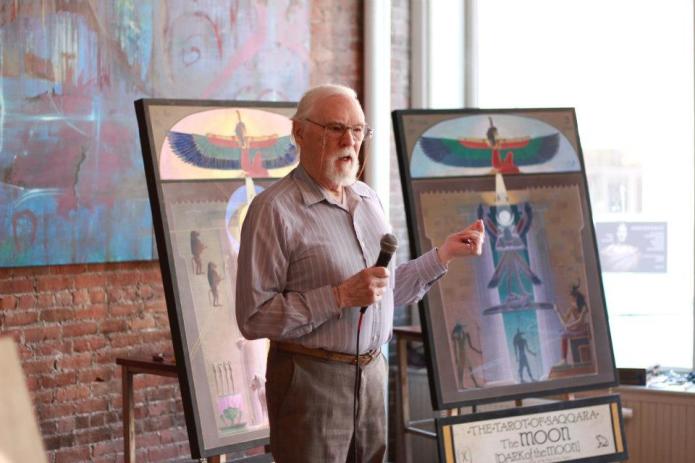 The Photographer and Designer - David Browning
I was fortunate enough to be introduced to Mr. Beaman in Massachusetts the day before the magnificent paintings of the major arcana were due to be boxed up and taken from the inn where they were hanging to be stored in an attic. At his request, the movers gave us the opportunity to take photos of each of these paintings split seconds before they were crated up for storage. This has allowed us the opportunity to permanently display these beautiful images in both tarot card and digital format for thousands to enjoy.
You Can Help
With your participation and support, each deck that is purchased provides another opportunity for YOU to discover your own soul secrets through Donald Beaman's impressive work with symbology, sacred geometry, and mythology. Together we can share these richly detailed paintings for generations to come.
Contribute by purchasing a tarot deck for yourself.
Contribute by purchasing a tarot deck for yourself AND a friend.
Donations over $5 receive a video link for a 1-hour instructional by Donald Beaman on using the Tarot of Saqqara for tarot readings.
FREE Ways To Help
Help us spread the word by SHARING this project on your Facebook timeline.
Email, text, or call your tarot enthusiast friends and let them know about this limited edition of the Tarot of Saqqara.
Timeline - November 2018
This deck is closer than you think. Since this is our second printing, and we already have all the artwork finalized, proofed, and submitted, we look forward to being able to fulfill these perks as early as mid-November. The Tarot of Saqqara cards are being printed overseas right now and we appreciate your patience while they are being shipped to us.
Other Tarot of Saqqara Publication Links
Wholesale
Please contact us through Indiegogo for a wholesale price link for Tarot of Saqqara deck quantities over 5.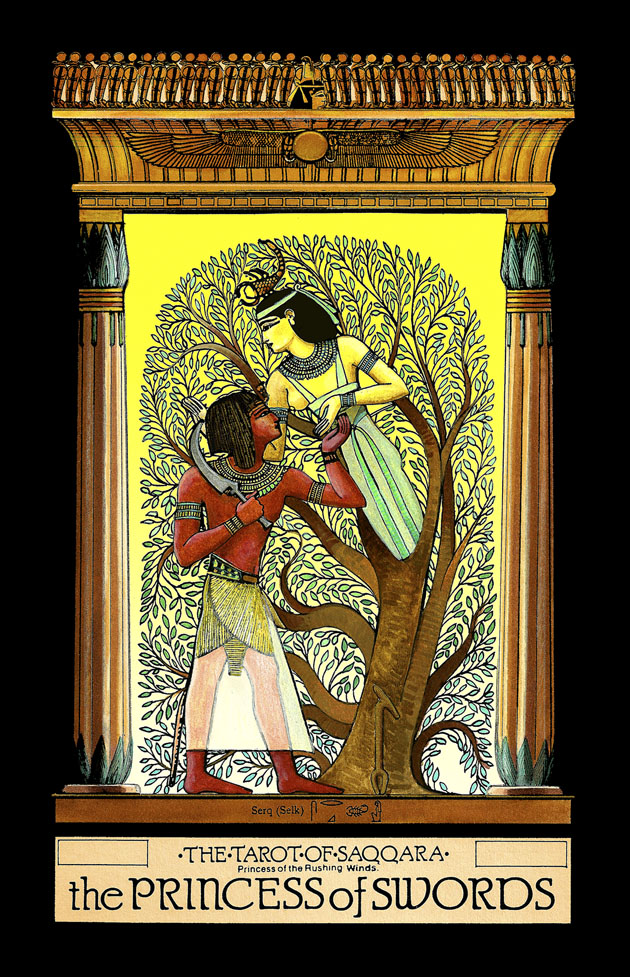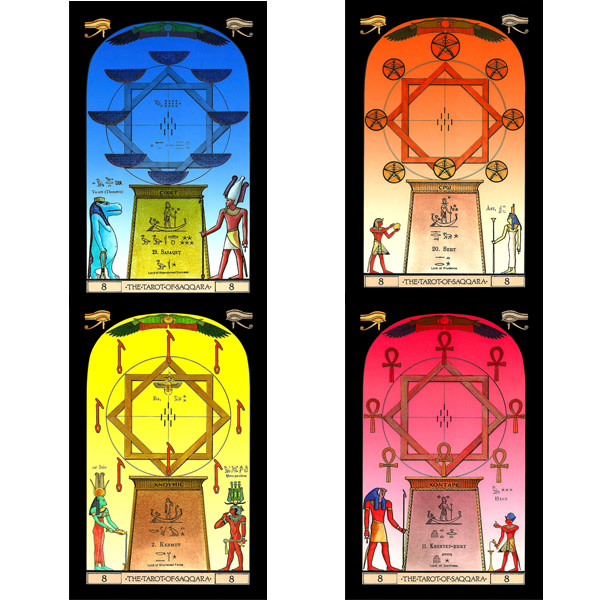 Excerpt from the 96-page instructional booklet included with the Tarot of Saqqara deck
A trip through THE TAROT OF SAQQARA is not "The GrandTour" of enlightenment, nor a "get-away to the island of yourdreams," nor a safari to the dark recesses of superstition. It issimply movement toward an affirmation of Life.Each of the cards is a part of yourself – a ripple in the water,indicating you have passed by. If we would construct a Templeof Truth of THE TAROT in our mind, we must become onewith the original. We must allow the Ancients to speak throughus; and we must be willing to demonstrate in our lives thatWisdom which is unchanging. Then all Temples become oneand THE ONE is our self and we are
THE HERMIT, and THE MAGUS, and THE FOOL.And All are OneIn NEITHWho is WISDOMIf you are resolved to penetrate the darkness of our ownignorance and to illuminate with your Thought, the Mysterybehind the Veil, then pass on, Pilgrim. May you walk in theways of WISDOM. Live and be well. Live and be ONE.