Bring Back the Steeple!
The Steeple on the 1769 Meetinghouse in East Derry, NH has been gone almost three years. We had to take it down before it fell, then discovered it was so decayed we had to disassemble and store it offsite before it further fell apart.
We have a $30,000 LCHIP grant to help restore the Steeple, but need to raise a matching amount to receive the grant award.
You can help through this fundraiser, where every donation we receive is matched by an equal amount from the grant (up to the $30,000 goal).
Plus, our chairman has committed a donation to cover all the transaction processing fees at the end of this campaign, so 100% of your gift will go right to Steeple preservation.
But time is short: we need these funds now to complete the Steeple restoration and bring it back to be reinstalled on the Tower Base hopefully this fall or early winter.
Part of Total Meetinghouse Preservation
The Steeple Restoration Project is part of an overall Tower Rehabilitation Project. Earlier this year we completed the Tower Base Rehabilitation Project, including replacing two of the four 60'-tall 12x12" corner posts and executing painstaking repairs on rotted portions of the timber frame.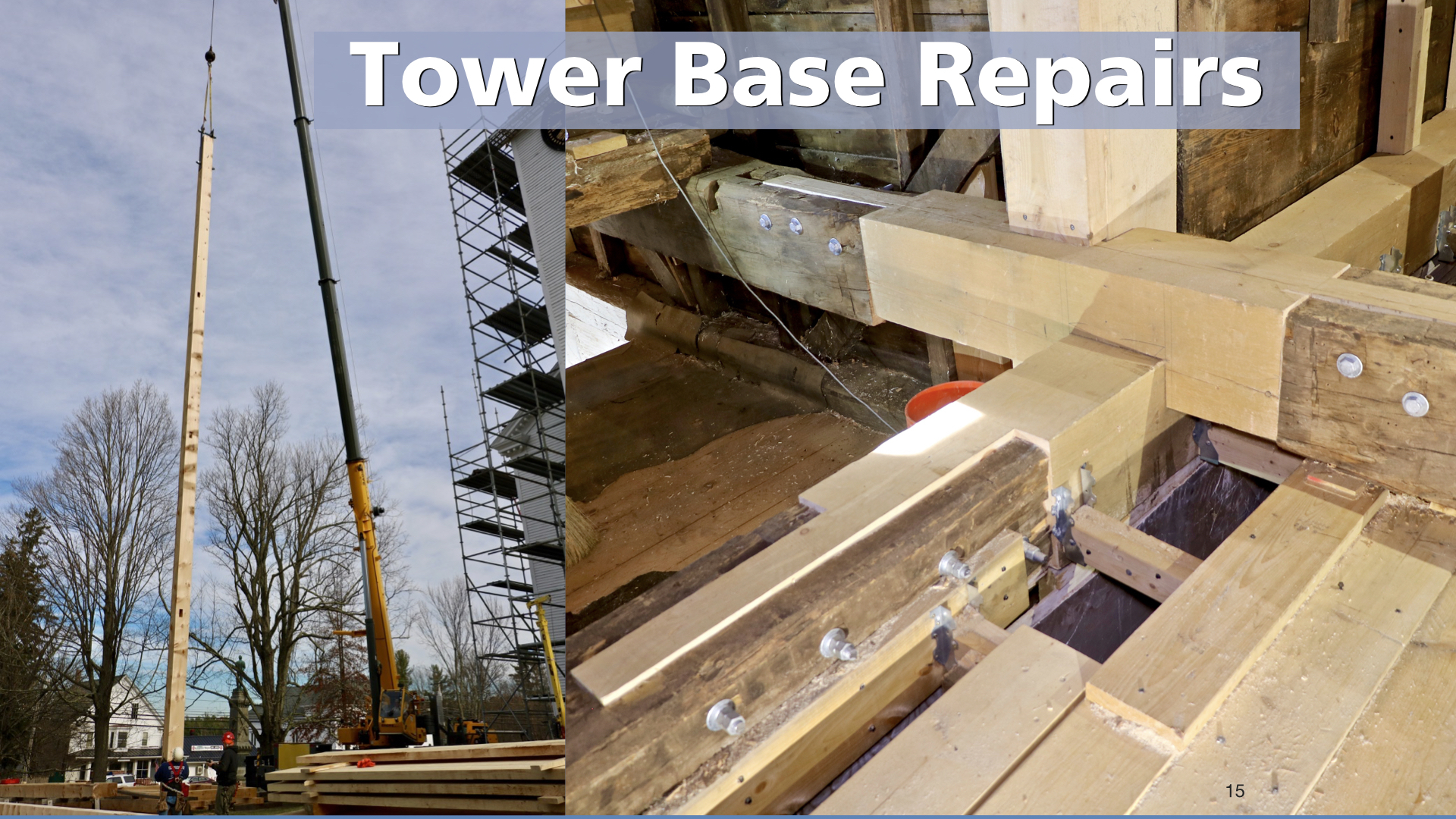 The Tower Project in turn is just a part of our multi-year, two-million-dollar effort to preserve and make accessible the entire 1769 Meetinghouse.
Already completed are a new cement foundation—clad with pieces of the original granite blocks—and the shell of a new Accessibility Connector housing an elevator for wonderful future access by everyone.
The result in not just the preservation of an historic landmark for another century or two, but also the availability of fantastic new community resources for meetings, concerts, and more.
But first we need to rehabilitate the Steeple, bring it back, and finish the entire Tower. So please give generously to help make this happen.
You can also:
Thank You!