Team OKC is a group of loyal individual and corporate contributors who support the OKC-based Team USA athletes pursing their Olympic and Parlympic dreams on the Oklahoma River. Team OKC also provides the resources that help inspire youth to pursue healthy lifestyles through Oklahoma River-based programming intended to uncover the next generation of home grown Olympic Hopefuls. Membership in Team USA helps enhance the accessibility of the Boathouse District to all, while providing members special insight into Oklahoma City's initiatives in the Olympic Movement though exclusive gatherings and special events.
The Team OKC "Giving Distances" listed above will help the OKC Boathouse Foundation to achieve a $75,000 goal for 2014. These "Giving Distances" can be combined over time to achieve naming rights on larger boats or Boathouse District features at the following thresholds (benefiting youth and elite athletes):
Double Racing Shell or K2: $10,000-$15,000
Four Person Racing Shell, Dragon Boat or K4: $20,000-$30,000
Eight Person Racing Shell: $35,000-$50,000
Annual Naming Right to Major Attraction Feature: $50,000+ (call for more information)
Planned giving opportunities are available along with multi-year pledges eligible for boat naming opportunities. Boat naming is a cherished tradition in the sport of rowing and is the highest honor to bestow upon an individual. The name will remain with the boat for its lifetime and the size of boat corresponds with the donor level as detailed on the following page. Boats will be named in a christening ceremony to recognize the honoree and donor. Please contact Mike Knopp, Executive Director to learn more about boat naming opportunities or to structure a planned gift.
Team OKC also offers unique opportunities to leave a lasting legacy in the Boathouse District by helping advance the OKC Boathouse Foundation's mission to sustain a high performance training environment that engages and inspires our community to get active through integrated and accessible river-based programs for all ages.
Team OKC Members will become insiders in Oklahoma City's unique Olympic Movement and the formula that is achieving national and international acclaim. Oklahoma City's rise in international water sports was on display during the ICF Canoe Marathon World Championship, held on the Oklahoma River on September 24-28, 2014. Team OKC supported this important milestone event as we welcomed athletes from over 30 counties to Oklahoma City.
Team OKC Members will be invited to attend regular events in the Boathouse District and at the new Team USA House on 9th Street near Downtown Oklahoma City. Send off parties to the World Championships and Olympics, victory celebrations, and interactive events for the entire family are all part of the opportunities Team OKC members will have as they support high performance on the Oklahoma River.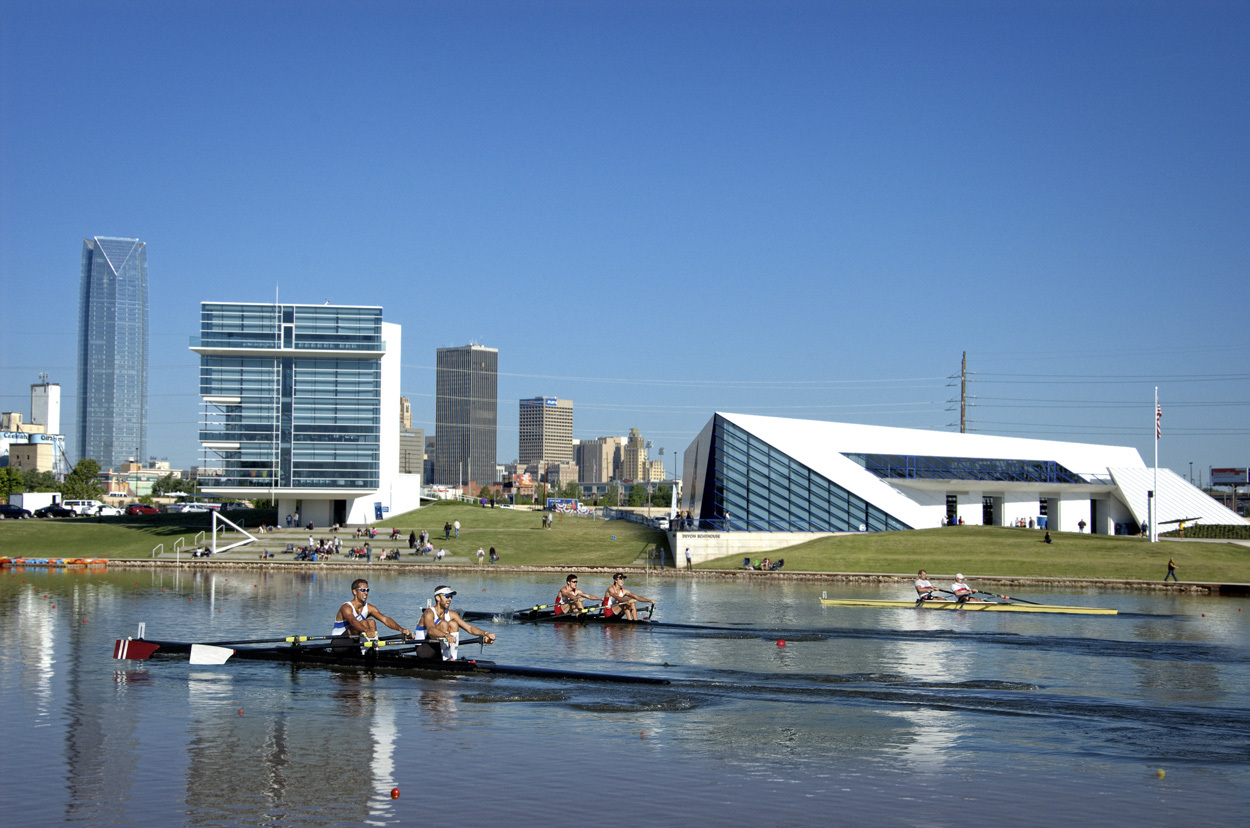 The 2016 Rio Olympics are less than two years away and the Oklahoma City rowers and paddlers are training long hours and challenging themselves with international competition across the world. They need our support to gain the experience needed to reach the podium in Rio. Housing costs, equipment, travel, nutrition, and event production are all key expenses in the OKC formula for international success. Also critical are talent identification initiatives and youth development to ensure Oklahoma children have opportunities to access the world class venue and coaching on the Oklahoma River.
As a result of development of the OKC National High Performance Center and the US Olympic and Paralympic Training Site on the Oklahoma River, the pathway to Olympic glory and collegiate opportunity in river sports is nowhere shorter than in Oklahoma City. Team OKC will help ensure than all youth have opportunities to access the life-changing resources offered by the Oklahoma River.
The Team OKC Donor Wall located in the Welcome Center of the Chesapeake Finish Line Tower offers a powerful opportunity to recognize Team OKC member donors of $1,000 and up. The renowned, annual Blu Lounge VIP Party will be the signature Team OKC event celebrating the achievements of Oklahoma City's Olympic Movement and looking to the future as we continue develop a culture for high performance on the Oklahoma River. You can receive complementary tickets via Team OKC giving opportunities or you may purchase tickets at http://boathousedistrict.org/festivals-races/oklahoma-regatta-festival/blu-party/ when they become available.This event is held every year during the Oklahoma Regatta Festival.
The Oklahoma City Boathouse Foundation is a nonprofit, 501(c)(3) organization and all donations are tax-deductible. Stock and in-kind gifts area welcomed and eligible for Team OKC donor benefits. Team OKC donor benefits may be declined to maximize tax benefits.
A variety of opportunities for corporate sponsorships are also available, providing access to the world class meeting facilities in the Boathouse District, thrilling adventure attractions, and engaging team building activities. Naming rights and attractions sponsorships area also available with RIVERSPORT Adventures and the upcoming world class whitewater center. Please contact the OKC Boathouse Foundation to learn more about opportunities to activate a corporate partnership within the Boathouse District.
CONTACT INFORMATION
Mike Knopp, Executive Director
405-412-0766
mknopp@okcbf.org
www.boathousedistrict.org
In lieu of making an online gift, checks may be sent to the OKC Boathouse Foundation at PO Box 3075, Oklahoma City, OK 73101-3075