Fundraiser for Zane Marzoratis Hyperbaric Treatments
0
days left to
raise $5,602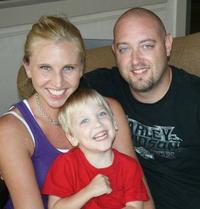 here's a video of Zane after a week of treatments. I have noticed his words are a lot clearer, and most of them are complete sentences http:/…
Pulse
All Updates
Fundraiser Only
About Hyperbaric Treatment/stem cell treatment for Zane
Hyperbaric Chamber Treatments
Hyperbaric oxygen therapy, also known as HBO, is used often used to treat individuals who suffer from cerebral palsy. By spending time in an oxygen-rich environment, such as the one provided in a hyperbaric chamber, blood flow can be increased in certain areas of the brain. Since cerebral palsy is caused by tissue damage to the motor areas of the brain, and increased blood flow can promote the healing process, many cerebral palsy sufferers notice a reduction in symptoms such as muscle spasms, impaired vision and difficulty with speech and hearing.
Hyperbaric chambers are typically small rooms that produce a controlled environment that is rich in oxygen. Most doctors recommend a program of intense 1-hour sessions in a hyperbaric chamber over the course of just a few weeks. For instance, a typical HBO therapy regimen may include one or two 1-hour sessions per day, five or six days per week, until a total of 40 sessions have been completed. The patient will then be examined by a team of medical professionals to see if positive results have occurred. If a reduction in cerebral palsy symptoms is documented, another 40 sessions will be scheduled after a break that usually lasts a few weeks.
Since hyperbaric therapy carries a fairly low medical risk to patients with cerebral palsy, it is usually possible to have company in the chamber during therapy sessions. Usually a nurse or other health care professional may accompany the patient to ensure the chamber is operating properly. Children, however, are usually allowed to bring a parent or guardian into the hyperbaric chamber to help them feel less afraid of the procedure. Side effects from the hyperbaric chamber are usually mild to non-existent, and may include minor ear discomfort or difficult breathing in patients who may also be suffering from lung diseases. In most cases, spending time in a hyperbaric chamber is very similar to flying in an airplane.
(description used from http://www.livestrong.com/article/13267-use-hyperbaric-chamber-therapy-cerebral/)
Stem Cell Treatment
According to Duke University, which is utilizing autologous (patient's own) cord blood-derived stem cells to treat children with cerebral palsy in an ongoing clinical trial, "Cerebral palsy results from in utero or perinatal injury to the developing brain, often through stroke, hypoxic insult or hemorrhage. Currently available treatments for patients with cerebral palsy are supportive, but not curative. Umbilical cord blood (UCB) has been shown to lessen the clinical and radiographic impact of hypoxic brain injury and stroke in animal models. UCB also engrafts and differentiates in brain, facilitating neural cell repair, in animal models and human patients with inborn errors of metabolism undergoing allogeneic, unrelated donor UCB transplantation. We hypothesize that, in the setting of brain injury, infusion of autologous UCB will facilitate neural cell repair resulting in improved function in pediatric patients with cerebral palsy."
Since the beginning of this clinical trial at Duke, parents have been reporting functional improvement in their children after receiving cord blood-derived stem cells.
Because we utilize allogeneic cord blood-derived stem cells, we are able to offer treatment to any qualified patient, not just those who saved their own cord blood at birth. We will discuss several additional advantages of allogeneic cord-derived stem cells below.
Which kinds of stem cells are utilized for CP treatment and how are they collected?
The Stem Cell Institute leverages adult stem cells from expanded and fresh human umbilical cord matrix and cord blood (allogeneic mesenchymal and CD34+) to treat cerebral palsy. Both types of stem cells are harvested from donated umbilical cords and cord blood. In accordance with International Blood Bank standards, all umbilical cord-derived stem cells are rigorously screened for viruses and bacteria at Medistem Labs before they are approved for use in patients.
What are the advantages of treating with allogeneic cord blood and matrix-derived stem cells?
Advantages of allogeneic umbilical cord-derived stem cells over autologous cord blood cells include:
• Anyone can be treated because there is no requirement to use the patient's own banked cord blood
• Allogeneic stem cells can be administered multiple times over the course of days in uniform dosages that contain high cell counts, not just once.
• Umbilical cord matrix provides an abundant supply of mesenchymal stem cells. On the other hand, the cord blood itself contains very few mesenchymal cells.
Advantages of allogeneic umbilical cord-derived stem cells over autologous bone marrow stem cells include:
• No need to collect stem cells from the patient's hip bone under general anesthesia, which for small children and their parents, can be an unpleasant ordeal.
• Because they are collected right after (normal) birth, umbilical cord-derived cells are much more potent than their "older" counterparts like bone marrow-derived cells for instance.
• Umbilical cord matrix provides an abundant supply of mesenchymal stem cells. On the other hand, bone marrow contains very few mesenchymal cells.
Umbilical cord-derived stem cells pose no rejection risk because the body does not recognize them as foreign.
How are the stem cells administered during CP treatment?
A licensed physician administers the stem cells intravenously (IV). Depending upon the age and physical size of the patient, the stem cells might also be administered intrathecally (into the spinal fluid) by an experienced anesthesiologist. Intrathecal injection allows the stem cells to bypass the mature blood-brain barrier efficiently and migrate throughout the central nervous system.
The cerebral palsy treatment protocol typically takes 5 days.
(description taken from http://www.cellmedicine.com/treatment/cerebral-palsy/)
Brief History of Zane
Zane was born on June 2, 2006 at 28 weeks, weighing 2 lbs, 14 oz. at Loyola University hospital. He needed to be delivered emergency C-section because Heathers liver had been clotting throughout her pregnancy. Heather had been diagnosed with a condition called PNH which basically means her bone marrow was not producing enough healthy blood cells. After Zanes birth, Heather had been put on the waiting list for a bone marrow transplant. Zane was diagnosed with cerebral palsy due to a grade 3 brain bleed during birth. Cerebral palsy affects how the brain tells the body how to move muscles, impairs speech, and can cause tremors.
Zane spent the first 2 months in the neonatal intensive care unit where he was constantly monitored. When we were allowed to take him home, he was sent home with an oxygen tube attached for the first few months.
During the first few years of Zanes life, we have had many treatments, including medicine to help him loosen up, along with Botox injections (yes, Botox was initially created for CP patients) and many many days of physical, speech, and occupational therapies.
Zane is now 5 years old, and cannot crawl, walk, or feed himself. Everything he needs has to be done for him due to his lack of mobility because his muscles are always so tight. His speech has improved, and can even retain a lot of what you tell him. He has a wheelchair that he uses for school, wears braces on his legs to keep his feet flat, and has specialized equipment for bath time, and using the bathroom.
He has speech, physical, and occupational therapies twice a week at NCH pediatric rehabilitation services here in Naples, and loves riding the bus to school. He has made a lot of friends at school, and everyone that meets him instantly falls in love with him.
Heather found a perfect match for a bone marrow transplant, and had the procedure done on Oct 10, 2007 and is completely healthy with no complications to date.
Our Goal
To use these donations to offset the cost of the month long treatment at Chamber of Hope, and the very expensive travel and treatment to Panama City, Panama for the stem cell treatment.
There are clinical trials currently going on in the United States for stem cell treatments for cerebral palsy, but because it is still in a trial period, it is not FDA approved in the USA, thus travel to another country is necessary.
If you would like more info on the stem cell treatment and the outstanding affects it has had on children with CP, browse www.cellmedicine.com or just do a search. the results with this treatment are amazing.
We want to give Zane every opportunity to lead a normal and healthy life. Any and all information about any treatments that may benefit Zane are more than welcome. You can Email Brian at nocangolf2@aol.com or Heather at Hethermazz@aol.com
Cost and Benefits
After much research, we estimate the cost of the stem cell treatments around $15,000 to $20,000. this is the cost without the travel and lodging. The results of what we have found from parents with children with CP are amazing! there are alot of videos on youtube of people with CP having the treatment at a clinic in China. I will post some links to these videos on here so you can see the changes it has made in these peoples lives.
Thank you again so much for all your support, and spreading this site around. We have gotten donations from people we have never even met, and that is all thanks to the promotion of this site.
here are some links to the before and after of someone that had the stem cell treatment in China
Thank you again and have a Happy New Year!
The Marzoratis
Links to videos of Before and Afters
1st video of Zane a day before the hyperbaric treatment on 1/1/12:
http://youtu.be/0PBigkFtkLM First video
Video of Zane a week after treatments
http://youtu.be/XibRQRhMWmM Second video
Zane after 2 weeks of treatment
http://youtu.be/KdkTg_91bwI Third Video
January 2, 2012
Zane just had his first treatment. It was kinda an odd experience. Pretty tight in there with both of us. He was a little freaked out at first, but the only problem he had was when they got the chamber up to pressure. He had a bit of trouble with his ears, but they were able to bring down the pressure and his ears cleared. Got another one at 3pm today, and after that, zane says he wants chicken nuggets... i guess... He's been good... heh
January 3, 2012
another successful day at the chamber today. He did alot better than yesterday. much better clearing his ears this time. I think the oxygen makes him all giddy. about half way into the treatments, he starts giggling at nothing... lucky kid.... It may just be me, but it seems like his words are a bit clearer, and he has said many sentences that hes never said before. it's more like hes asking questions, instead of just repeating things he hears.
January 4, 2012
Today Zane decided to take a poo poo in his diaper in the chamber. ok... for those of you that have smelled a dirty diaper before, lemme tell ya, you haven't smelled nothin yet... imaging being at pressure... the aroma is 5x's as bad... I love my kid..heh... other than that, he did even better than the last 4 treatments. He still amazes me with the things he says, After Fridays treatments, I will take another video of him and post it on here. Tomorrow night the Ronald McDonald house has given us free tickets to the Ringling Bros circus here in town, so tomorrow night after his treatments, we are headed to the circus. I think he will enjoy that. He seems a bit looser than before. Thanks for looking, and I will keep you all updated
January 5, 2012
So today we got up and Zane was being a bit cranky, which is a bit unusual, cause normally if he is cranky, he snaps out of it soon. He was in the same mood all the way until our 2nd treatment at 3pm. Imagine being in a chamber with a child that will not stop yelling.. woah.. it's super loud in there... He did really well though. no problems with his ears, he just seems to get bored with the 2 book we bring in there. We just got back from the Ringling Bros circus that the McDonald house gave us tickets to. He had a blast. All the way home he kept saying "dad, oh my goodness, that was so much fun". I just laid him down, and he was out within 10 minutes. I love nights like this. I will try to post a video tomorrow night or over the weekend. I notice little changes, but nothing major yet, but it's only the first week. thanks again for all your support!
January 6, 2012
Today when we got to the chamber, one of the volunteers hands me a magazine with a bunch of articles and stories about different treatments for different conditions. I started flipping through it, and noticed an article for the Chamber of Hope in there that was pretty well written. I told him I read it, and he starts telling me about another article in there that I should read about Autistic children and puberty. He starts explaining the article to me, saying that as early as 5 (which Zane is) "this is no longer a pee pee" (pointing to his cash and prizes) "this is called a penis." Now, God Bless the elderly, but I thought it to be a bit odd for someone telling me how to tell my child about different body parts, but also thought it to be a bit early to be staring at someone pointing to their "nether regions".
Anyway, after that lovely chat, we finally got into a chamber, and Zane is starting to get used to clearing his ears with a bit of coaching. We bought him a "colors" book, and he seems to get a bunch of them right. He actually made me laugh out loud. My parents sent us a pressure cooker for Chistmas, and when you release the pressure, it makes that "swishing" sound. as they were releasing the pressure on the chamber, zane looks at me and says "dad, are we in a pressure cooker?" HAHA funny kid...
I'll try to post a video of him in the coming days. Thanks for checking out his updates!
JANUARY 9, 2012
Today before we got to the chamber Zane heard Bon Jovi's "wanted dead or alive" on the radio. He remembers the song from when we played it on rock band on the Wii. so, we are in the middle of doing his colors book inside the chamber, and he busts out "i'm a cowboy, on a steel horse I rideeeeee" I just busted out laughing. His speech is getting so good, if nothing else comes from this, I'm a happy camper. Last night at dinner, the McDonald house had a guy playing the saxaphone, and Zane was totally into it, so we got back to the room, and I found some saxaphone music online, needless to say, I think he found a new sound he likes.
January 10, 2012
Today zane heard a new tune on the way to the chamber... and was singing it the whole time inside... anybody wanna take a guess? think... "the Police"... I'll wait.... yep you got it... "roxanne" needless to say that was a fun hour. And I wanted to take a minute to say again, THANK YOU to each and every one of you for your support. We have hit the half way mark. Honest to God, I wouldn't have thought we would have gottten this much support. Let this be an open invitation to each of you that want to get out of the cold, you always have a place to stay in Naples, Fl. All it takes is a phone call.
Zane is doing very well with his speech. It seems like it gets better by the day. I honestly don't know if that's a good or bad thing. I used to think he talked alot before.. but jeesh... it seems he is spilling everything he has kept cooped up for the last 5 years. Cant wait to post another video this weekend...
January 11, 2012
so today was pretty uneventful, until we wound up in the ER after an ambulance ride. got your attention? ok good.. I'll make this short. heh. everything went real good in the chambers today. Zane is getting better at clearing his ears, and is now starting to get bored with the whole thing, but still does real well. His speech everyday gets better. It's amazing.
now the good stuff... so a buddy of mine, Andrew, is here in St. Pete, and we thought we should get together for some din din. after driving around for a while trying to find a place to eat, we settled on a bar and grill type deal. Had a great dinner (chicken was fantastic) and zane had 4 pieces of chicken tenders. We were laughing and joking around, Zane was pretty entertaining, and in one second, his face just turned like something was hurting. I asked if he was ok, and all he said was his tummy. He started taking really short breaths, and was trying to cry but couldn't, because he couldn't catch his breath. I just thought he was a bit backed up, took him to the restroom, and nothing.... he was still trying to breath normal. I could tell he was in alot of pain. after about 5 minutes, I decided it was time to call an ambulance. By the time they got there Zane had had a few toots, and was starting to feel a bit better, and was breathing pretty normal but was sweating like crazy. EMT checked him out and decided we should take him to the ER to have an xray. after the xray, as it turns out, he had alot of air in his tummy, and was pretty backed up. 4 hours, and a prescription for stool softener, and he seems to be his same ole crazy self. Ahhh the joys of having a 5 year old...
p.s. Sorry again Andrew. but you should know by now, it's never a dull moment with the Marzoratis heh
January 12, 2012
Zane says he had fun in the space ship today. Did real good again. in the afternoon treatment, we both took a nap, which was nice, didn't even feel like we were in there an hour. I just asked Zane what else we should tell you guys, and he says "happy Birthday" whoever thats for... anyways, there is a little girl with autsm in the same time slots as Zane, been having the same amount of treatments as Zane, and at the beginning, she wouldn't talk. Today we heard her in the room saying Mama, which is a huge deal, if you don't get to hear your kids talk alot. Her mother was so excited. It seems Zanes muscles are still tight, I'd say a small bit looser, but we still have 2 weeks to go. like I said, if all it helps is his speech, I'm a happy camper. Thanks again for checking on his updates!
January 13, 2012
Man, what a week. Zane says he wants to go see the manatees tomorrow. I guess there is a spot by the TECO power plant where the water is warm, and hundreds of manatees gather there every day. Heres a link to a webcam of the viewing area (http://www.tampaelectric.com/manatee/funstuff/webcam/) I think he will enjoy it. We might take a trip to the Tampa aquaruim also. he loves watching the fish swim around. I think it reminds him of when daddy goes diving. Thank God we have the weekends off. One more week for me. Looking forward to spending my nighttime in my own bed. Have a great weekend everybody, and we'll pick back up on Monday. I'll try to post another video this weekend.
January 16, 2012
Today after the first chamber treatment, we went to McDonalds, ate, and came home for a nap. As I laid Zane down, he said "somethings stuck to my tongue" so I said "stick your tongue out and lemme see". Not seeing anything I rolled over and tried to nap. He just kept saying it over and over. Finally I told him to stick his tongue back in his mouth, and noticed a piece of chicken nugget in between his bottom teeth. Needless to say, I'm so proud my boy finally got something stuck inbetween his teeth, now I just had to dig it out.. heh.. aweee kids...
During the 2nd chamber treatment, about 15 minutes in, Zane looks over and the conversation went something like this:
Zane: We have to take a left
Me: to go where?
Zane: to the moon
Me: oh I didn't realize we were going to the moon today, are you sure we have to take a left to get there?
Zane: I don't know, you should check your GPS
Me: Oh ok, yep we have to take a left to get there
Zane: We should be there in about 45 minutes right?
Me: yep
Zane: ok when we get there see if you can find a parking space
Me: I'm pretty sure we will be able to park wherever we want when we get to the moon
Zane: no, we have to find a handicapped parking spot
Me: (just starts laughing, I love this kid)
Here's a link to a new video I shot yesterday that shows a bit of his progress. He says his ABCs, and the Pledge of Allegiance, and he seems to bring his cup up to his face a bit better than before instead of bring his head down to his hand.
January 17, 2012
So today me and Zane went to Mars and Pluto. Pluto was ok, but it was so far away, and not really a planet anymore so the 2nd trip we hit Mars. Mars was pretty cool Zane says, not as many parking spaces as the moon, but still "pretty cool". Zane just said to tell you that "I went in the space ship today". He also said to tell you that he went to China today. He did, sort of. We went to China Wok for lunch. not to be confused with Happy Wok, the greatest chinese food on the planet, which I totally miss from Illinois. Thanks for checking on his updates, and 3 more day to go for me...
p.s. If anyone has a jug full of Doans Backache meds, ship them my way. Thanks
January 18, 2012
Zane is doing better and better in the chamber with clearing his ears. He used to have it pressurized very slowly, but now he seems to know when to swallow to clear his ears. I asked him today where he wanted to go. He said "the north pole" so as we were in the "space ship" he says, "Dad, are we going to the north pole to see santa clause or are we going to Bass Pro Shops to see him?" Even though he knows the North Pole is where he lives, we went and took a picture with him at Bass Pro Shopsat Christmas. His memory is improving, he is constantly bring up things that have happened way in the past. One of his favorites, is taking Murphy for a walk, while daddy and mommy went out. It's amazing he remembers that. This was back last July. Lauren, you musta had quite an impression, between the wonder pets, walking Murphy, and Eddie, he brings it up all the time. Thanks again for all your support. We are now at $9313, which still surprises me to this day. If you know anyone else that may be interested in Zanes story, please feel free to post or share his website: www.fundly.com/zane Thanks again everybody!
January 19, 2012
for some reason Zane got the "take me out to the ball game" tune in his head before we got into the chamber. He was singing it the entire time. "cause it's root root root for the cubbies" haha.. Today they had a photo shoot going on to promote different businesses giving to the Ronald McDonald house. They gave Zane a new blue shirt with big bird and the gang on it, and took a bunch of pictures... Yeah.... my kids a star. Zane just wanted me to tell you that he kept his balance (for the most part) on the potty.. He seems to be getting pretty loose. We met our neighbor Mary, Sara, Haven, and Manny today at Wendys. they were up here for an appointment. I had Mary on speaker phone, and as soon as I hung up, Zane went nuts. he says" who was that" I said, "you know who that was' he says" That was Mary, we are going to see her and I'm so sided (excided)" One more day for me up here. Headed back to Naples after his 3pm appt tomorrow. Heather comes up Sunday morning to begin a week with Zane in the chambers. yeah... I miss my bed.. heh
January 21, 2012
We got home yesterday. Me and Zane were super excited to see mommy. We suprised her by coming home a bit early so we got to see her before she had to go to work. Heather and Zane leave to go back up there on Sunday. One week to go. It was also very nice to be able to sleep in my own bed last night, but I do miss all the meals the fantastic people make for the families up there. Geoff thanks for taking me out last night. It was some much needed adult time for me. (and thanks for letting me win at darts heh) Check back for updates from Heather!
January 24, 2012
Hello all, this is Heather now. Zane and I got back up to St. Petersburg yesterday. Zane had fun showing me around the Ronald McDonald House, and introducing me to all of his friends. Brian was right, everyone here is great...and they all just love our Zane.My first day in the "spaceship" was great. He gain wanted to go to the moon. So we did. On the sides of the chamber are little plastic windows that I thought looked like port holes, so I told Zane we were in a submarine and kept asking him what color fish just swam by. :)I do definitely notice his verbal skills improving. For lunch we had an egg salad sandwich. I didn't think he'd like it but I let him try it. In the past when he didn't like something he would simply say just that, "I don't like it"... today he ate a bite, then he looked at me and said, " I just like the bread, not the salad" Which seems simple enough but he never really spoke like that before. I find it very exciting. Then I was taking him picture and he wanted to see it. So I showed it to him ad we took a few more. Then I showed him the last one and he said, "Oh my gosh that's a good picture!" He makes me laugh out loud alot. He makes my ♥ full. Thanks for checkin' on his updates! Happy Monday to you all. :)
Tuesday Jan. 24th, 2012 Today Zane and I had another fun filled day. We wake up and he gets his morning Cheerios. Then we get ready to go to the hyperbaric chamber. Zane always reminds me to bring his pillow, blanket and book. And for some reason he's really good about reminding me that I need my phone too. ;) The "spaceship" went well... I don't know if it's the oxygen or the loud whirring sound of air but every time I get in it I just want to go to sleep. But Zane keeps me occupied telling me to turn left or turn right to get to the moon. Afterwards we went back and had some lunch, and attempted to take a nap. Zane however was just not having it... but he did lay down and talk quietly to himself. I heard him whispering to himself, "and put it in the oven for Zane and me". ♥ I love listening to him talk when he doesn't know I'm listening.Then we had the afternoon oxygen session and went to the grocery store to get some more milk. He told me we also needed to get snacks. lol We got home and waited for dinner. We had a great dinner and Zane was impatiently waiting for BINGO to start. He helped Millie call the bingo numbers. And he made out like a bandit. He got a piggybank, some space window clings, bubbles and a stuffed animal. Then he took a bath and I put him to bed. He's laying in the dark in the bed next to me and while I was typing this. this is what I've heard him say,"Let's get this party started...what's gonna work? Teamwork. What's gonna work? Teamwork ....B9...and goodnight mom I love you so much" ♥ I'd say that wraps up a pretty good day.Thank you all for following along. We love you all and are so grateful to have friends/fam like you!
Thursday 1/26/2012Well... we have one more day left. And I think Zane is more than ready to go home. Everything here has been great, but he misses his school, and teachers, and friends, and therapists, and routine...well, and his Dad.Ronald McDonald House is something I hope none of you ever have to use, but I am very grateful for it at the same time. You see the Ronald McDonald House (RMH) is really just for parents of sick children who are in the hospital. And the parents don't live in the same city as the hospital, so they are offered a place to sleep and eat in between going to visit their child. We became familiar with them when Zane was born in Chicago and had to stay their for a month before being transported to Rockford for another month. We got to stay at RMH for something like $5 a night back then... think of how much a month long hotel room would have costed. And the RMH also feeds you, gives you a place to do your laundry, send emails, etc. Anyway... it's a wonderful place but I still hope none of you ever need to use one because that would most likely mean you have a sick child. Having been here just a week we have gotten to make some new friends, and hear their stories. We actually were invited to go meet a little premie baby tomorrow. A couple liked Zane so much they asked if we'd want to go see their son in the hospital tomorrow before we leave. So we are excited to do that. Thankfully their son is doing very well despite the prematurity.There are days... very rare, but there are days that I feel like I am the only person in the world who has a disabled child. Now, I am a logical person, and I know this to not be true. But I have a emotional side as well, and this emotional side may not be so logical. ;) And maybe it's not that I feel like I'm the only one, so much as I feel like I don't know if I'm doing enough. But then I remember... that is just part of being a parent. Every parent of any child will worry that their not doing right by their kid. Or second guess decisions they made for them. So then I relax and I assess my child. And Zane is absolutely perfect. :) He is happy, and smart, and kind. I think I may have some allergies starting because I was coughing last night, and Zane woke up and said in the saddest voice, "ohhhh you just don't feel good. I will make you feel better." He has compassion! That makes me feel like I'm doing something right.Being back in a RMH reminded me that life happens to people every day. Parents have healthy babies, parents lose their babies , parents have special babies... This RMH see's it day in and day out, week after week after week. It doesn't stop. It has become a part of this world. And so there will always be a need for the RMH. I don't know what percentage of the change you put in the McDonalds drive through box actually goes to the RMH... but if you can put you car change in there, if not maybe write your closest house a tax deductible donation. Or it's a great place to volunteer at as well. (Sorry it's late and I'm tired and I get side tracked easy)But in a long round about sort of way... I am just thankful. Thankful for this place, these people, my husband,my family, friends and my son. I really believe he makes me be a better person. Or he at least makes me try really hard.
Febuary 2, 2012
Zane went back to school on Tues. and was pretty excited to take the bus again. Sue, his bus driver said it had been pretty quiet while Zane was gone, She loved having him back, cause he always tells her to "turn right, turn left, take me home" His teacher noticed a difference in his speech also. She said all day he was Mr. Talky Talk. Yesterday he also had an appointment for his therapies that he goes to twice a week. He really missed all the girls. Lil ladies man, he is. Things have kinda gotten back to normal now being back home, which is a huge relief. Thanks for checking on his updates, and a special thanks to Casey Jones, Tony Howard, Perry Rock (right off of Perryville), RBI and Onyx for all their hard work and donations. It's amazing that even though I stole Heather away to Florida, there are still many many many people back home that still keep us in their thoughts. Thank you again!
Choose a Giving Level
Click to Select
Already donated? You rule.
You can keep it going by fundraising for this campaign.
You'll have your own page in under a minute!
---