Kristen Engle
Fundraising for Team 2012: Indianapolis
0
days left to
raise $315
Pulse
All Updates
Fundraiser Only
About Me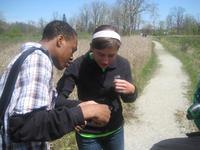 About Teach For America
Teach For America is the national corps of recent college graduates committed to ending the achievement gap that persists between high and low-income schools in our country. In Indianapolis, only about 30 percent of students enrolled in IPS are predicted to graduate high school before they turn 19. We have the power to change this.
Teach For America recruits candidates with leadership, commitment and proven academic achievment to commit to teach for two years in a short-term effort to catch up their students. During their two year commitment, these teachers gain the knowledge, skills and mindsets necessary to create systemic change over the long term. As alumni, they work from every sector of our community (business, law, medicine, policy, etc), to put Indianapolis students on a different path in life.
What is Team 2012?
Teach For America-Indianapolis has the opportunity to greatly expand our impact by doubling the size of our corps, from 50 to 100 incoming corps members, in 2012. To make this possible we have increased our fundraising goal by 60% for this upcoming year.
Team 2012 is a fundraising team made up of corps members, alumni and community supporters commited to raising $25,000 by participating in the Indianapolis Mini Marathon in May. A local corporation has agreed to match our funds so we've set a goal of raising $50,000 overall. Please join us!